Glycomics Program

Blegdamsvej 3, 2200 København N.
Primary fields of research
The Wandall group

Glycans decorate most proteins and cover all our cell membranes, yet our understanding of how glycans influence the lives of cells and organisms is limited.
We use gene editing, organotypic tissue models, and sophisticated mass spectrometry to decipher glycan functions. The genetically engineered cells and organotypic tissue model have provided evidence of the importance of glycans in tissue differentiation, cancer, and host-pathogen interactions.
We now use organotypic tissue models for broad discovery and dissection of the specific structure-function relationships by which glycans drive normal epithelial formation, transformation and interaction with viruses and the microbiome.
We aim to exploit this knowledge for new and targeted treatments for inflammation, cancer, tissue regeneration, and the development of novel viral vaccine strategies.
Current research
Main areas of interest:
Glycan functions in tissue homeostasis, stem cell biology, and regenerative medicine

Glycans in host-pathogen interactions (Bacteria, Virus, and parasites)

Creation of disease models

Impact of glycans on inflammation, cancer, and degenerative diseases
Highlights
Novel proteome-wide discovery strategy for O-glycosylation sites on viral envelope proteins using herpes simplex virus type 1 (HSV-1) as a model. We identified 74 O-linked glycosylation sites on 8 out of the 12 HSV-1 envelope proteins. With the use of precise gene editing, we further demonstrate that elongated O-glycans are essential for HSV-1 in human HaCaT keratinocytes.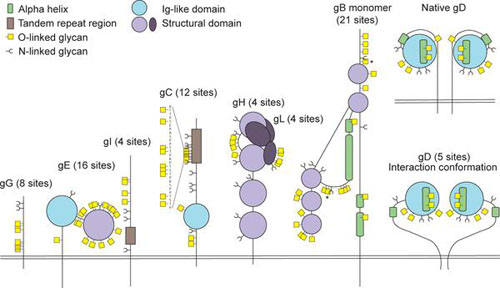 Bagdonaite I, Nordén R, Joshi HJ, Dabelsteen S, Nyström K, et al. (2015) A Strategy for O-Glycoproteomics of Enveloped  Viruses—the O-Glycoproteome of Herpes Simplex Virus Type 1. PLoS Pathog 11(4): e1004784.
Uncovering the function of cancer associated glycan changes using simplified cells and simplified tissues. We demonstrate, with the use of well-defined cell systems generated by precise gene editing, that the aberrant O-glycophenotype by itself induces oncogenic features with enhanced growth and invasion.
Collaborators
ALK-Abello A/S Cord Brakebusch, BRIC, Sally Dabelsteen, Department of Odontology of Health Sciences, University of Copenhagen. Morten Frödin, BRIC, Michael Hollingsworth, University of Nebraska, Omaha, NE Usha Menon & Aleksandra Gentry-Maharaj, Institute for Women's Health, University College London, UK. Sigvard Olofsson, University of Gothenburg Anders E. Pedersen, Department of International Health, Immunology and Microbiology, Faculty of Health Sciences, University of Copenhagen. Bent Larsen Petersen, Department of Plant- and Environmental science, Plant Glycobiology Søren Skov, Department of Veterinary Disease Biology, University of Copenhagen. Steffen Thiel, Department of Biomedicine, Aarhus Anders Woetmann and Niels Ødum, Department of International Health, Immunology and Microbiology, Faculty of Health Sciences, University of Copenhagen.
Possible conflicts of interest
Consultant for and founder of GO-therapeutics focusing on development of antibodies for immunotherapy of cancer (http://gotherapeutics.com). 
Co-founder and consultant for early stage biotech initiative for the development of antibodies to various non-glycosylated targets (Ebumab Aps & Hemab Aps). 
Established Wandall ApS to control consultant activities. 
ID: 925408